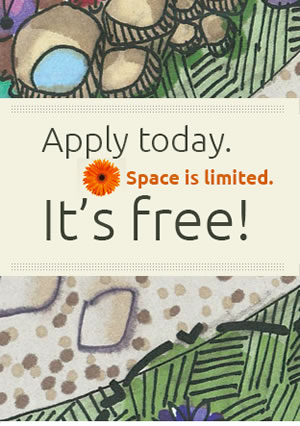 Transform Your Yard into a Beautiful Water-Saving Landscape
The WaterSmart Landscape Makeover Series is an educational program that will empower you to upgrade your high-water-use turf area into a WaterSmart landscape. This is done through lectures, hands-on lab work, demonstrations, homework assignments and one-on-one coaching by local landscape and irrigation professionals, all at no cost to you.

OPEN FOUR-CLASS SERIES

MiraCosta College, Oceanside

Thursday evenings ∙ 5:30-8:30 pm
September 15th & 29th
October 13th & 27th

SDG&E Energy Innovation Center

Wednesday evenings ∙ 5:30-8:30 pm
October 5th & 19th
November 2nd & 16th

Your commitment to attend ALL FOUR CLASSES in the series is required!
Please review the class dates and make sure you can attend them all.

To add your name to our wait list, complete an application and indicate your location choice.
Click on Apply Online! button to register for one of our upcoming four-class series or to add your application to a waitlist for a future series in your area.

This fast-paced, personalized learning experience, based on the Water Authority's award-winning A Homeowner's Guide to a WaterSmart Landscape will take you on a path to improve the beauty of your property, reduce maintenance, minimize runoff and conserve water.
In order to qualify for participation in this series you must:Click the image above to watch a overview of the WaterSmart Landscape Makeover Program.
be a homeowner
identify an existing turf area for removal
have an in-ground, working irrigation system
commit to attending all four classes in the series (each class is three hours and held two weeks apart)
Note: If you already submitted an application but didn't receive a confirmation email, first check your spam folder. If you still can't find it, add "landscapemakeover@sdcwa.org" to your Safe Senders list. Then click here: Resend confirmation.
---
Class Slides
Click on the class title below to view the accompanying slide show.
This class is designed to help you understand the factors needed to create a beautiful and climate appropriate replacement to traditional turf. You will learn the watershed approach to landscaping. This class walks you through the important tasks of analyzing your site, assessing your soil and consideration for how much water you ultimately want to conserve in your newly landscaped area.
The new landscape you envision should support the way you intend to use the space. Imagine creating an extension of your home with consideration for the basic architecture of the house. What type of room would you add? In our Mediterranean climate, you can add an exterior room that may accomplish the same goal. At the end of the day, if a space doesn't function well for the people who use it, it won't be successful.
This class explains how you will be able to retrofit to an efficient water-saving irrigation system by becoming familiar with the advantages and disadvantages of various irrigation controllers, rotary sprinklers, pop-up spray head sprinklers, sprinkler nozzles, irrigation valves, and drip irrigation types. Proper maintenance and effective watering schedules are also covered.
In this session, you'll be meeting with your Design Coach to finalize your LID, planting, and irrigation plans. If you're still unsure of what you want to do, don't worry. Our Design Coaches will work with you to develop the plan you need. Your coaching session will be by appointment.
It's FREE and it's EASY so apply today!